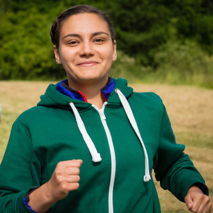 Madalina Henter's fund raising for Cystisk Fibrose Foreningen - YOU RUN 2019
Donate
Created By:

Madalina Henter

Member Of Team:

Participating In:

Collecting for:

Madalina Henter's fund raising for Cystisk Fibrose Foreningen - YOU RUN 2019
Dear friends, family and colleagues,

I have signed up for YOU RUN because I want to support a great cause. Will you support me? Every penny counts and I am grateful for any contribution, big or small.

My donations go directly to the Cystic Fibrosis Association, which is one of the organizations you can choose to run for and which means a great deal to us. You can donate here via this page (press the donate button). If you like, you can also write who you are so we can all share the pride of making a difference.

The race itself takes place on Sunday, April 28, 2019, starting and ending at Søren Kierkegaard's Square at The Black Diamond, Copenhagen. Everyone is welcome and we need all the support we can get!

So, while you prepare your voice for cheering - I will be training for the race!

Donate
2,200 kr.


Collected

44% 5,000 kr.
Efi Karakatsani

Donated

500 kr.

I wish there will be found a permanent treatment soon!!

Madalina Henter:

Thank you very much Efi! I'm sure in the near future there will be something that will make a big difference in the lives of cystic fibrosis patients. We are very optimistic and try to support the effort of the ones who are working on that treatment. :D

Katarina Kocherova

Donated

100 kr.

Madalina Henter:

Thank you Katarina! :*

Julia Jones

Donated

150 kr.

Madalina Henter:

Much appreciated Julia! 😊🤗

Agnes Jensen

Donated

150 kr.

Madalina Henter:

Thank you Agnes! 😘 😘 😘

Juris Daugulis

Donated

200 kr.

Madalina Henter:

Mange tak Juris! :*

James Molineux

Donated

250 kr.

Madalina Henter:

Thank you very much James! :D

Pupy Mupy

Donated

150 kr.

Madalina Henter:

Muchas gracias! :D pupy mupy back! :*

Evija Kranate

Donated

300 kr.

Madalina Henter:

Thank's a lot Evija! :* Hugs and kissez! :* :D

Anonymous User

Donated

250 kr.

Go Bubis! :*

Madalina Henter:

Thank you for the cheer and the donation! :*

Anonymous User

Donated

150 kr.

Madalina Henter:

Thank you so much for your donation!

Louise Stougaard Cystisk Fibrose Foreni...

Dear Madalina
Thank you so much for supporting Cystisk Fibrose Foreningen. Your contribution makes a difference for people with cystic fibrosis. We are looking forward to seeing you cross the finish line the 28th of April!
Kind regards
Helle Ousted og Louise Stougaard from Cystisk Fibrose Foreningen